Post by erikholland on Dec 1, 2018 12:50:26 GMT -5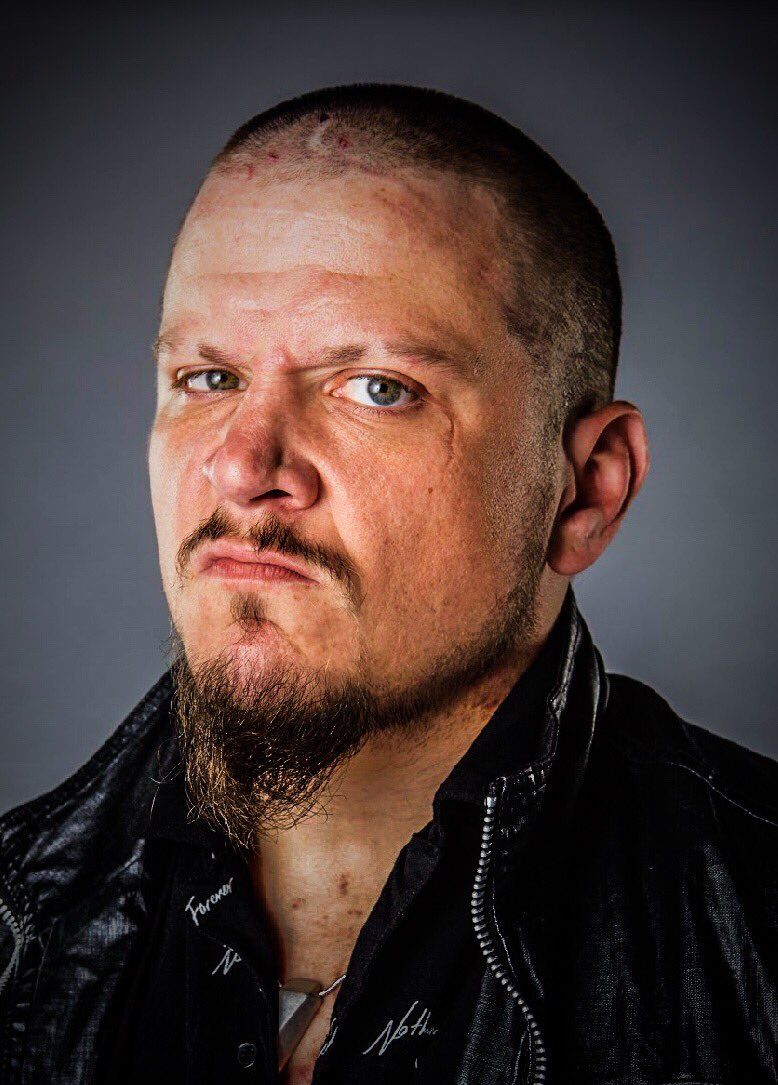 Sami Callihan
PERSONAL INFORMATION
---
REAL NAME:
Erik Holland
GENDER:
Male
NATIONALITY:
Dual American/Canadian citizenship
D.O.B/AGE:
Jan 2, 1989 (29 years old)
HOMETOWN:
Glens Falls, NY
RESIDES:
Toronto, Ontario, Canada
TWITTER:
@projectholland3
PROFESSIONAL WRESTLING CAREER
---
RING NAME(S):
Erik Holland
NICKNAME(S):
The Bye Bye Man
The Maniac
Weapon X
Gilgamesh (The Destroyer)
BILLED FROM:
Silent Hill
HEIGHT:
6'6"
WEIGHT:
281 lbs.
TRAINED BY:
Nightmare and the Nightmare Factory in Portland, OR
CROWD AFFILIATION:
Face
PROFESSIONAL DEBUT:
2014, for Neo Gothic Industrial Wrestling
CHARACTER SYNOPSIS
---
WRESTLING STYLE:
A visually brutal style mixing power moves, out of control brawling and stiff strikes. His overall strength is deathmatch wrestling. It's often said that Holland is so unpredictable in the ring *HE* doesn't even know what he's going to do next and most often that's true. If he had anything remotely resembling a strategy it'd be this--all offense, all the time. Beat you up, beat you down, hit the Toxic Avenger and pin you. He is known to ignore the pain of injuries suffered during the match and fight you laying on his back, fight you on his knees, fight you anywhere in the arena. All he knows how to do is to keep getting up and keep coming forward at his opponent.
CHARACTER ANALYSIS:
He's caustic, sarcastic and well-read with something of a motor mouth, always ready with a quick word of encouragement and inspiration to his friends or insult and call-out to his enemies. Ready for a fight 24/7 and willing to put his body on the line against anyone for any reason, Holland considers himself the most dangerous man in pro wrestling--and there isnt a whole lot of argument against that.
STRENGTHS:
(minimum of 1, maximum of 3)
Aggression
- Holland will come forward at you at all times during the match forcing you to wrestle on your back foot. He is utterly fearless, believes the best defense is a good offense and thinks the best way to win his matches is to simply overwhelm you with hard strikes, power moves and violent brawling.
Deathmatches
- His specialty is deathmatches. He has been in violent environments for 90% of his career and understands to a deep degree how to inflict and absorb chilling amounts of punishment with a wide variety of weapons. He loves to bleed and make others bleed.
Great Athlete
- Although he's not super-cut, Holland was blessed with natural strength and stamina, giving him the ability to execute high impact and power moves with relative ease. He also possesses uncanny stamina for a near 300-pounder, able to go the distance in long, grueling matches and possessing the mental/physical resillience necessary for it.
FLAWS:
(minimum of 1, maximum of 3)
Counter-Wrestling
- Holland's not a technical wrestler, not in the slightest. There may be a thousand counters for each hold but Holland doesn't know a lot of them, if any, and purely relies on his resilliency to survive moves and holds.
Temper
- Holland is an incredibly intense wrestler and as much as this works for him, it often lets his emotions get the best of him. This can cause him to take unnecessary risks, break rules and even cause himself to be disqualified.
RELATIONSHIPS:The Badd Breed
- Erik Holland maintains close friendships with all wrestlers affiliated with the Badd Breed. This includes Scott Knight, Rob Sharpe, Zombie Black, Equinox, Aaron "The Dream" Gresham, and "Mr. Controversy" Timothy Hunt.
ENTRANCE THEME:
"Invasion of the Body Snatchers" trailer (https://www.youtube.com/watch?v=kYrcyROSjl0 00:00-00:18) leading into "Vendetta" by Slipknot (https://www.youtube.com/watch?v=r4a0q3I4ivo)
ENTRANCE DESCRIPTION:
"Will you tell these fools I'm not crazy! Make them listen to me before it's too late!"
The arena suddenly goes completely pitch black.
"Listen to me. PLEASE listen. If you don't, if you won't...if you fail to understand, then the same incredible terror menacing me will STRIKE AT YOU!"
The driving drums and guitar of Slipknot then barrel over the loudspeaker as everything explodes into a cacophony of red and white searchlights and strobes. The stage fills with white smoke as the fans pound the rails in time with the song. As the first verse is roared out, Erik Holland comes staggering through the mist, a black leather entrance mask tight over his face, the Badd Breed logo prominent on his back and the back of the entrance mask as the camera swings around him, getting a 360 view of the Maniac. He reaches up and pulls the mask off his head, exposing that thousand yard stare to the roars of the crowd.
He continues on his almost dazed walk to the ring, pounding his chest, touching fists with fans on the way to the ring, occasionally lifting the mask up to the side of his head as if he's having a conversation with it. He cuts a lazy circle around the ring as he reaches ringside and suddenly he explodes. His intensity and acceleration change as he DIVES under the ropes into the ring and charges at the hard camera ropes, collapsing against them with a positively vicious smile on his face, draping arms and legs over the ropes. He repeats this on all four sides of the ring and then leaps from the ring again, picking out a random fan and slowly, almost reverently, placing the tight leather entrance mask over their head. Obviously proud of his handiwork, a visibly elated Holland charges back into the ring, raising his arms on the turnbuckles, yelling at the crowd and whipping them up into a frenzy. When they're suitably in a crazed mass of humanity, Holland drops off the buckles and starts pacing around the ring like the barely restrained animal that he is, ready for the fight.
IN WRESTLING
---
FINISHING MOVES
(maximum of 2 + 1 ultra finisher + 1 flash pin)
-
The Toxic Avenger
(Attitude Adjustment)
-
Project: Gabriel
(Pedigree)
-
The Last Temptation of Toxie
(Second-Rope Toxic Avenger)
(ULTRA FINISHER)SIGNATURE MOVES
(maximum of 5)
-
Plan 9 From Outer Space
(Superman Punch)
-
The Babysitter's Dead
(Discus Big Boot - Kassius Ohno's 'Cyclone Kill')
-
Chopping Mall
Double Underhook Shoulderbreaker (Like a butterfly piledriver but drops the opponent's shoulder on his knee)
-
Brain Scan
Inverted headlock transitioned into a discus elbow smash to the back of the opponent's head
-
In The Mouth of Madness
Sitout Reverse Piledriver (Bam Bam Bigelow's "Greetings from Asbury Park)
REGULAR MOVES
1. Knife edge chop
2. Elbow strike
3. Forearm strike
4. Yakuza Kick
5. Powerbomb variations (Gutwrench, Release, Sitdown, Buckle Bomb)
6. DDT
7. Spinebuster
8. Suplex Variations (Belly to Belly Overhead Release, German Release, Dragon Release, Fisherman)
9. Sidewalk Slam
10. Superplex
11. Half and Half Suplex
12. Lariat variations (Discus, Charging, Standing)
13. Samoan Drop
14. Patella Brainbuster (Drives opponent's neck onto his knee)
15. Turnbuckle Backbreaker (Delivers a backbreaker on the top rope using the connector between the turnbuckle and ringpost)
16. Mongolian Chop in corner (This is a spot Keith Lee does--Erik will pin his opponent in the corner, get the crowd to be utterly silent and then deliver a HUGE, and very loud, double open hand chop to the chest)
17. Apron leg drop (Does it similar to the Undertaker, adopted from his mentor Nightmare)
18. Piledriver
19. Standing Uranage (Like Bray Wyatt where he lifts and throws him down without going down himself)
20. WEAPONS. (Any spot with weapons you can think of. Nothing is too brutal.)
BIOGRAPHY
---
Put simply, this is a man that has made a successful wrestling career out of absolutely nothing. Unable to complete school as a youth due to dealing with a host of mental issues that included self-harming and severe, crippling anxiety, Holland was voluntarily put into a mental health facility and subjected to therapy and medication. When he was well enough to leave the facility, Holland began to pursue a career he learned about while he was receiving treatment--professional wrestling. This took him to Portland Oregon where he enrolled in the Nightmare Factory lead by FIW/NGIW Hall of Famer and former World Champion, Nightmare. Living out of his car, he trained for months at the Factory often clashing with Nightmare and nearly getting thrown out of the school more than once. But his work ethic and obsession with his dream impressed Nightmare to the degree he allowed Holland to stay at his residence in Portland during training.
He soon debuted in NGIW and took the deathmatch-inspired company by storm, quickly rising through the ranks and becoming NGIW Champion inside his first year in the company. He was known, primarily, for his extremely violent displays in matches, but soon began to display some impressive straight wrestling ability as well. This is also where he met the mysterious and charismatic Zombie Black, forming the tag-team combination known as
THEM!
and challenging a couple of times for the Tag Team Championships, striking a lifelong friendship with the walking corpse through these battles.
After the closure of NGIW, Erik expanded his range and debuted for Full Intensity Wrestling, again quickly finding success through becoming the Fighting Spirit Champion. He had a death-grip on the title during his tenure, holding it twice and for several months at a time each time. During his time he also sparked a one man war with Stephen J. Eversol, Kim Coulter and their Coulter Crew, arguably the rivalry that elevated Holland into superstar status.
Holland soon realized he would need more allies to battle the Coulter Crew, and an opportunity presented itself when he defended the Fighting Spirit Championship against Scott Knight at Anarchy in the UK in a Dog Collar match. The two men brutalized each other to the degree where they earned one anothers' respect and agreed to form a tag team. Thus was the birth of the Badd Breed, a combination dedicated to elevating pro wrestling into a high impact, hardcore, chaotic mess of excitement. Knight and Holland saw success, but after Knight went down with health issues, Holland carried the flag of the Badd Breed on in Knight's absence, uniting more and more competitors under the banner including his former partner Zombie Black as well as Tiami Erickson, who he struck up a relationship with and earned two World Tag Team Championship reigns with.
During this time, as he was competing in FIW, he debuted for Elysium Pro Wrestling and continued to repeat his habits of instant success, winning the inaugural Wideawake Tournament and becoming Elysium's first ever World Champion. Elysium star K-Remix joined the Badd Breed during this time, and saw some success of his own before unfortunately suffering a career ending injury. Back in FIW Erik also captured the Rising Championship, recording the longest reign with that belt than anyone in the company.
Erik would go on to recruit more and more names into the Breed, just as the maniacal clown Havok revealed himself to be the one behind a hostile takeover of FIW. Names like Ian Starr, Joe Stanton, Aaron Gresham (then known as the Dream) and many more joined Erik's cause as he rose up to resist Havok's iron grip on the company, ultimately expelling Havok and his subordinates in a final showdown inside Condemned Fetish. Rescuing the company and allowing it to close on its own terms after 14 years of dominance in the wrestling world.
After this, he would capture yet another World Championship becoming the ECWF World Heavyweight Champion, debut in Japan for Death Trip Wrestling (and recruit deathmatch veteran Rob Sharpe into the Badd Breed) and challenge for the World Championship there, and appear in 4CW challenging Bryan Laughlin for the Ignition Championship.
Nowadays, Erik is something of a hot commodity in wrestling, appearing for multiple promotions seeking to win championships, have memorable matches, spill a hell of a lot of blood and maybe even recruit more names to his Badd Breed to help him continue to fulfill his vision.
OUT OF CHARACTER INFORMATION
---
-
Preferred name:
Will
-
Experience:
15 years
-
Preferred means of contact:
Twitter DMs on @projectholland3
-
Match writing avalibility:
Im available to write matches every other card and would like to primarily stick to writing my matches.