Post by gerardwinters on Nov 29, 2018 19:46:57 GMT -5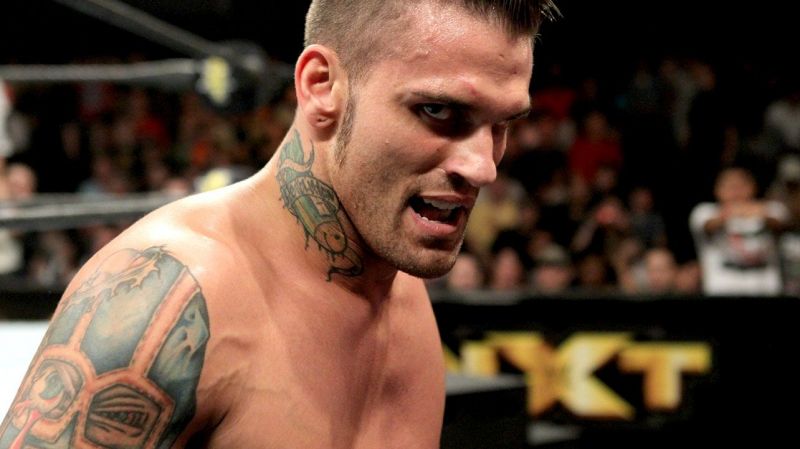 (Corey Graves)
PERSONAL INFORMATION
---
REAL NAME:
Gerard Winters
GENDER:
Male
NATIONALITY:
American
D.O.B/AGE:
April 3rd, 1995 (24)
HOMETOWN:
Babylon, New York
RESIDES:
Babylon, New York
TWITTER:
N/A
PROFESSIONAL WRESTLING CAREER
---
RING NAME(S):
Gerard Winters
NICKNAME(S):
"The Manic Street Preacher",
"The Pearl of The Underground" "The Siren Song Of Counter-Culture"
BILLED FROM:
Babylon, New York
HEIGHT:
6'2 (6 feet, 2 inches)
WEIGHT:
225 lbs
TRAINED BY:
Tarah Nova
CROWD AFFILIATION:
Face
PROFESSIONAL DEBUT:
March 8th 2014
CHARACTER SYNOPSIS
---
WRESTLING STYLE:
Gerard is an unorthodox grappler who uses both a high flying and hardcore style to break his opponents down. He has surely taken cues from his teacher when it comes to risk taking as he quite enjoys upping the ante on the carnage he may cause in the ring.
CHARACTER ANALYSIS:
Gerard is a party boy from Long Island who has a pention for taking risks. He is a daredevil of sorts due to a chemical imbalance in his brain that restricts his dopamine when not in a very exciting situation. Gerard was trained by the legendary Tarah Nova and takes her name and legacy very seriously.
STRENGTHS:
(minimum of 1, maximum of 3)
Great Hardcore and High Flying wrestler,
Welcomes a challenge,
Loves the rush of the ring.
FLAWS:
(minimum of 1, maximum of 3)
Quick to rush into a possibly bad situation depending on how much it excites him,
Loves to egg on his opponent,
Inexperienced
RELATIONSHIPS:Tarah Nova:
Gerard's trainer and trusted friend. Tarah's style and legacy are very important to Gerard, hence his willful adoption of her trademark high flying and hardcore style.
ENTRANCE THEME:
"Berzerk" - Eminem
ENTRANCE DESCRIPTION:
*Flashing lights begin to appear around the arena as Berzerk by Eminem blasts from the PA. Gerard walks out onto the stage sporting a flipped up hoody that he flips down after kneeling and rising to his feet. He tags a few Fan's hands before climbing the ring steps onto the apron and vaulting over the ropes into the ring. He throws up the devil horns symbol with his fingers to the crowd and goes to his corner, awaiting his opponent*
IN WRESTLING
---
FINISHING MOVES
(maximum of 2 + 1 ultra finisher + 1 flash pin)
-
'Soaring Suicide X'
(Phoenix Splash) (Adopted From Tarah Nova)
-
'Babylon Smash'
(Rip-Cord Knee Strike)
-
'Walls of Babylon'
(Inverted Figure-Four Leglock) (Ultimate Finisher)
SIGNATURE MOVES
(maximum of 5)
-
'Rude Awakening'
(Curb Stomp) (Adopted From Tarah Nova)
-
'Welcome To Babylon, (Bitch)'
(Cutthroat Backstabber)
-
'High Times'
(Springboard or Diving 450 Splash)
- Comeback Sequence: Multiple Forearm Shivers Followed by Irish Whipping The Opponent into the corner, Gerard then comes in with a Knee Strike to the face of the cornered opponent
REGULAR MOVES
1. Forearm Shiver
2. Single Underhook Kick out Facebuster
3. Running Knee Strike to the Gut or face
4. 'Chain Dog Collar' (Hammer and Chin Lock)
5. 'HADOUKEN' (Double Palm Strike To The Opponent's Abdomen or a Kneeling opponent's Face)
6. Multiple Diving Attacks
. Crossbody
. Moonsault (Sometimes Standing)
. Double Foot Stomp (Sometimes Standing)
. Splash (Preceded by a Devil Horns theatric)
. Headbutt
. Meteora
7. Fisherman Suplex
8. Hangman's Neckbreaker
9. Jumping DDT
10. German Suplex
BIOGRAPHY
---
--
OUT OF CHARACTER INFORMATION
---
-
Preferred name:
Gareth...? I guess? Or Kerry is fine. Just like going by my old/current fed names.
-
Experience:
4 Years of fedding bro.
-
Preferred means of contact:
Discord
-
Match writing
availability
:
Not Often.